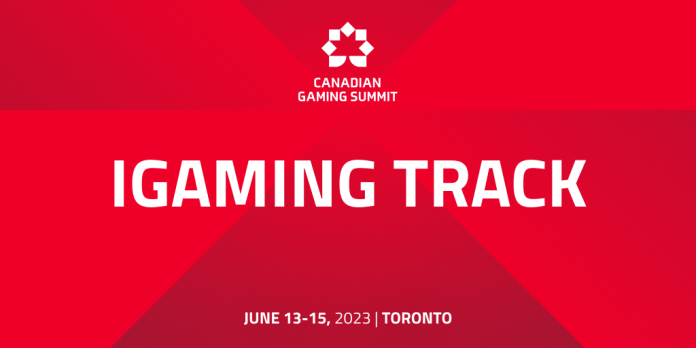 With iGaming's prospects widely discussed in Canada, The 26th edition of the Canadian Gaming Summit is set to highlight how significant such growth could be for the future of the industry with its dedicated conference track 'iGaming'. 
The Canadian Gaming Summit is poised to return next month, taking place at the Metro Toronto Convention Centre on June 13-15. The dedicated conference track will take place on Wednesday 14 June and will give attendees the opportunity to hear from industry leaders on topics ranging from Canadian gaming laws, the exciting opportunities new jurisdictions present and how to stimulate responsible revenue generation alongside growth.
Kicking off the conference track is "Engaging 15M new players: creating user experience to boost retention and brand loyalty", a panel that will discuss how iGaming operators can construct an experience that prioritises the customer, in spite of the limited time frame that is given for launch campaigns. 
The panel will include industry experts Noah Levy (SVP, Product Management, The Score), Alexsandra Sygiel (CRO, Pinnacle Sports), Vlad Pavlov (Co-Founder, Betty), Vladimir Malakchi (Chief Commercial Officer, Evoplay) and Dean MacNeil (VP, Product & Managed Services, Northstar Bets), who will discuss how utilising technology, brand and partnerships can create a unique and engaging environment that encourages players to return. 
The panel "Game mechanics and UX – how much innovation is healthy for online casino?", will be taking a focused look on innovation and the wealth of possibilities it can present to the industry going forward. 
The panel will include experts Paolo Roberto de Leon (Senior Director, Online Casino Content, Caesars Digital), Vladyslav Garanko (Chief Marketing Officer, Platipus Gaming), David King (Senior Manager of Product Design, Rivalry) and Trent Schwartz (Senior Manager, Gaming Experience, BetMGM) who will focus on when innovation is necessary in UX and game mechanics, from  slot machines to online poker.

The highly anticipated panel "New Kids on the Block: lessons learned from international operators' entry into the Canadian market", will analyse the successes of compliance, marketing and commercial teams of international operators in Canadian Provinces.  
The panel will include expert speakers Marina Bogard (Managing Director, Betsafe), Roxana Zaharia (Head of Canada, Rhino Entertainment) and William Woodhams (CEO, Fitzdares) and will be moderated by Peter Czegledy (Corporate, Technology, Gaming, eSports and Space Tech Partner, Aird & Berlis LLP).
During the panel, speakers will further discuss how the path of international operators can be utilised as a framework for future activity in Canadian provinces.
Rasmus Sojmark, CEO & Founder or SBC, said: "With Canada taking steps towards the legalisation of iGaming, it is important now more than ever that we provide the resources for companies to take advantage of the current and future landscape.
"The Canadian gaming space presents an abundance of opportunity for companies and we look forward to watching the market flourish in the coming years."

Alongside the 'iGaming' track, attendees at the event will have the opportunity to attend expert-led panels from an additional nine tracks including: Leaders, Land-based, Sports Betting and many more across the three-day event.
You can purchase your ticket for the Canadian Gaming Summit by visiting the website. For groups of three or more people, a special discount will be applied, saving you $200 on the regular ticket price (per ticket).