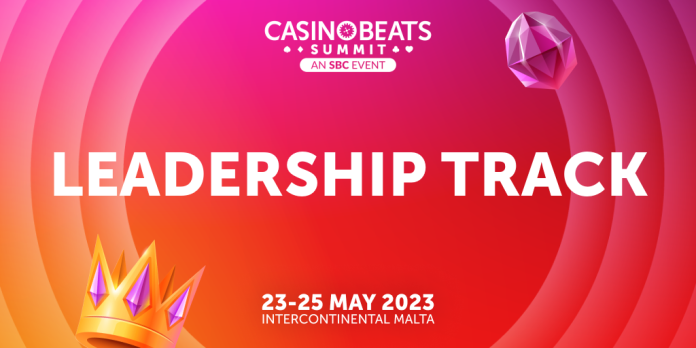 The highly anticipated CasinoBeats Summit 2023 returns for its fifth year of innovative discussions, industry leading panels and ground-breaking exhibitors.
Following in the footsteps of its predecessors, CasinoBeats Summit 2023 shows no signs of slowing down as SBC announces a returning favourite in the form of its esteemed 'Leadership' Conference track.

The 'Leadership' conference track will be ongoing throughout the first day of the Summit (Wednesday, 24 May) at the InterContinental Hotel in Malta, the hub of iGaming. This not to be missed opportunity will allow attendees to hear first-hand from a divergent collection of industry pioneers on topics ranging from talent acquisition in a post pandemic world, deep dives into Investments and M&A, a special panel with Rootz on their responsible gambling innovations and IMGL's masterclass session.
This year's masterclass session will be  focusing on the constantly changing regulations of the Advertising Standard agencies and the issues this presents to the industry. 
One of the highlights of the track is the "SBC Leaders panel – changing mindset and shifting the narrative", which will explore how the industry is perceived by regulators and politicians, as well as identify ways to change public perception. The esteemed panel consists of Alexander Martin (CEO, SKS365), Carlo Di Maio (CEO, FEG Romania), Colin Stewart (CEO, Palasino Malta Limited) and Andrew Rushgrove (Managing Director – Gaming, Sky Betting & Gaming).

Moderated by Peter Wilson (Director, Peter Wilson Legal), the panellists will discuss whether leaders need to realign a new set of goals and ensure the industry is less combative considering most EU markets are now regulated and whether the desire for a change in social perception will damage the entrepreneurial foundations that the industry is built on.
The panel 'Marketing leaders – establishing an authentic voice', will focus on the importance of the 'authentic voice' to the younger generation and how leaders can build greater authenticity into their marketing strategies, without alienating their core values and customers.

Acclaimed experts on the panel include Sacha Kinser (Head of Content, Game Lounge), Christine Debono (Marketing Director, Videoslots), Silvia Hoppe (Group CMO/ Founder & Director, Wunderino – Hyperino – Mybet / Globus Media Ltd.) with Aideen Shortt (CEO/Director, Lilywhite Limited/BetSwap Limited) moderating the panel. During the panel, the industry leaders will dissect the meaning of 'being on trend' and how being 'on trend' for one generation can be 'off trend' for another and whether a singular authentic voice can transcend multiple demographics and marketing channels.
The panel "Protecting players during Inflation" is aimed at discussing the position of the gaming industry in a society in which for many, the purse strings are tightening. Discussing the topic will be panellists Ian Perrygrove (Chief Risk Officer, Kwiff), Matthew Curtis (Head of Responsible Gaming, L&L Europe), Morten Ronde (Managing Partner/CEO, Nordic Gambling/ Danish Online Gambling Association) and Dan Spencer (Director of Safer Gambling, EPIC Risk Management).
With 2021's record setting $61bn revenue benchmark, the panel will discuss whether the industry has flourished due to innovative and opportunistic ventures or has the triumph been at the players expense and if so, is it doing enough to protect them. 
Other panels across the conference track include discussions on how iGaming companies can work with gaming hubs like Malta to evolve the industries approach to retaining talent, the impact of M&As on both consumers and the workforce and how technological innovation is aiding Rootz in their mission to promote responsible gaming.

As well as the 'Leadership' track, attendees can also find an abundance of expert panellists across the summit at our dedicated workshop area and across a variety of specialised panels discussing everything from Global Casino and Affiliation to Slots, Casino Products and more. 
In addition to informative content, the summit will feature a trade show with new game releases and product launches, as well as opportunities to network with industry professionals at some of the most iconic venues in Malta. 
You can purchase your CasinoBeats Summit ticket by visiting the website. For groups of three or more people, a special discount is available, saving you €150 on the regular ticket price (per ticket).