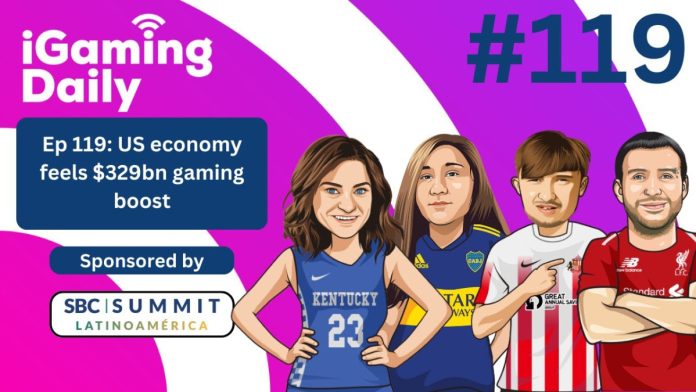 This week, the American Gaming Association has been at the centre of industry attention as it hosted G2E in Las Vegas. As around 25,000 descended upon the Venetian, the AGA marked the occasion by revealing the economic impact of the gaming industry throughout 2022.
Headline figures show that the US industry is worth around $329bn to the national economy, and is one of the most crucial industries in the country.
But what does this tell us about the state of US gaming after the rollout of regulated sports betting and iGaming? And could this influence a wave of igaming legislation? These are the questions that SBC Americas Senior Journalist Charlie Horner and CasinoBeats Editor Craig Davies spoke about on the most recent episode of the iGaming Daily Podcast.
Speaking directly on the report, which was created by AGA in collaboration with Oxford Economics, Davies said;
"The thing I thought was, you can't help but see these numbers and be taken back by how big they are.. The last report was 2017 and was pre PASPA (Professional and Amateur Sports Protection Act), so if we've gone through all this in the past 5 or 6 years and these numbers were not hugely inflated, there's a year's worth of podcasts right there to try and dissect it."
To hear more on the recent AGA report, including a wider discussion around how some of the more beneficial aspects within a report such as this are reported, including an appearance later on in the show from SBC Americas editor Jessica Welman and Head of B2B Media in LatAm Lucia Mourino who join all the way from Las Vegas at G23 2023.Click the play icon below to watch on YouTube, alternately you can listen on your podcast player of choice.
To read more of the topic discussed in today's podcast, click on the following links:
– https://sbcamericas.com/2023/10/10/ag…– https://casinobeats.com/2023/10/10/ag…