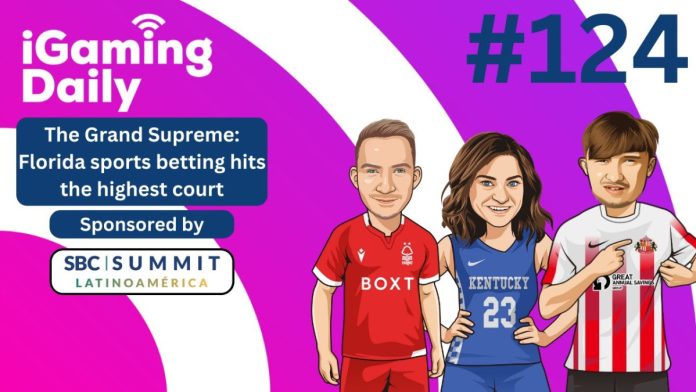 Today, iGaming Daily dropped into the sunshine state as the panel took a look at the goings on in Florida, as the legal challenges to Florida's sports betting compact with the Seminole Nation goes to the Florida State Supreme Court, after 2 years at the Federal level.
Joining host Jessica Welman today is her SBC Americas colleague, Charlie Horner, as they give a basic overview of what is happening in Florida a week removed from the 35th anniversary of the passing of the Indian Gaming Regulatory Act, why other states and tribes are keeping a close eye on the case, and when Hard Rock Bet might go back online in the Sunshine State.
Elsewhere in Indian gaming news, Jessica talks about the op-ed you may have seen on site this week from the Vice-Chair of the National Indian Gaming Commission, the great Jeannie Hovland who discusses the Indian Gaming Regulatory Act (IGRA), its history, and its importance to tribal communities in the United States.
Finally, CasinoBeats senior journalist Conor Porter dials in to give us the details of his packed day in London, attending the XtremePush's iGaming 2024: The Future of iGaming event, as well as the BetMGM launch party, where he details losing all of his (fake) money on the roulette table in an attempt to win a signed Man City shirt.
Some links to help you further understand the Florida situation
https://sbcamericas.com/2023/10/19/do…
https://sbcamericas.com/2023/10/12/we…
https://sbcamericas.com/2023/09/26/we…
https://sbcamericas.com/2023/10/17/no…
Watch the rest of today's episode! Either via the link below or by searching 'iGaming Daily' on your podcast player of choice.
And the aforementioned op-ed from Vice-Chair Hovland
https://sbcamericas.com/2023/10/18/ig…