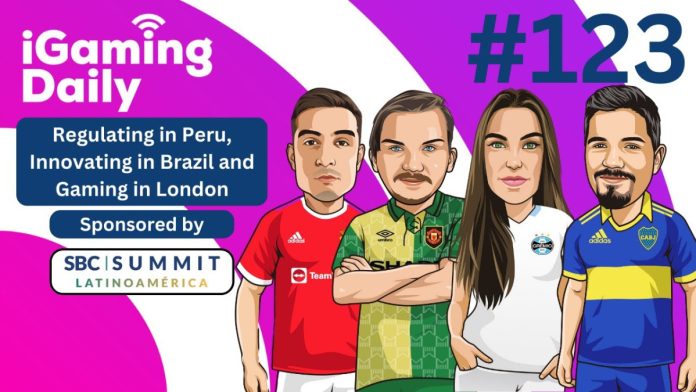 Once again iGaming Daily turns the attention to Latin America, specifically Peru and Brasil, as host James Ross is joined by Fernando Noodt of SBC Noticias, and Isadora Marcante of SBC Notícias Brasil. First stop, Peru, as the country's Ministry of Foreign Trade and Tourism (Mincetur), finally approved the bill laying out the technical and regulatory requirements for gambling operators wishing to offer their services in Peru.
The modified Law will come into force on February 9, 2024 and, from then on, operators will have 30 days (until March 10) to register with Mincetur, this leaves operators with a tight schedule to comply with the new rules, and Mincetur have warned of hefty fines for non-compliance.
What does this mean for operators and players alike in Peru, and how will this shape the future of the market?
Noodt began by describing the reaction to the new regulation in Peru;
"(The feeling is that) the government actually opened their ears and listened to the industry for this legislation.. It is expected that this new regulatory framework will protect the licence operators and of course, the players by creating measures to insure they don't get scammed by unlawful companies..Only licensed operators will be able to compete in this market.."
Elsewhere, in Brazil, James and Isa discuss her feature this week on the formation of Andreus Bardun's KTO Group, including a question from SBC CEO Rasmus Sojmark triggered the idea in Bardun's mind. Isa spoke to Bardun about starting the KTO Group, the Brazilian betting public, the regulated market, being a member of the IBIA and SBC Summit Rio.
You can read the interview in full at SBC Notícias Brasil here: https://sbcnoticias.com/br/kto-group-…
Lastly in a packed episode, James caught up with SBC Media's Viktor Kayed, in attendance at ESI London today, reporting in on what he's seen and learned so far, the sessions he plans on attending for the rest of the conference, and fielding James' enthusiastic gamer-fanboyism over the impressive attendees and exhibitor line-up at the Esports event.
You can click the play icon below to watch the rest of this episode, alternatively you can listen on your podcast player of choice.
*The interview with Gonzalo Pérez, CEO of Apuesta Total mentioned by Fernando here: https://sbcnoticias.com/apuesta-total…
*Check out the full story on Peru here: https://sbcnoticias.com/peru-apuestas…