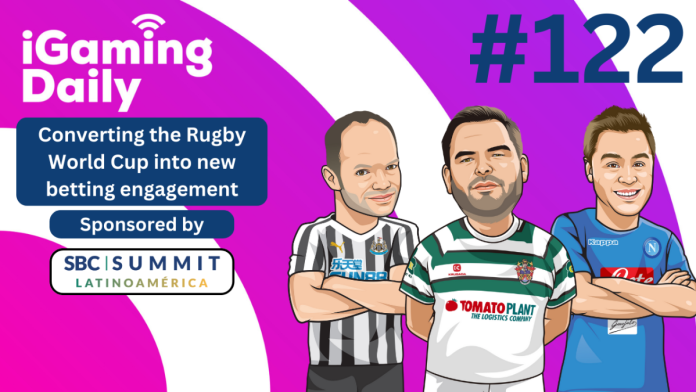 After what many people are calling the greatest weekend of rugby action ever, with the World Cup quarter-finals producing four scintillating contests, today's episode of iGaming Daily examines whether sportsbooks have managed to take advantage of the opportunities offered by the tournament.
Host Joe Streeter was joined by SBC's Media Manager Martyn Elliott and SBC's Commercial Director John Cook to look exclusively at whether the World Cup format and on-field action has helped to take rugby union to a new audience, and how bookmakers have reacted to events in France.
On the quality shown during the round of quarter finals matches, Cook said;
"Realistically, I think it was possibly the best weekend of rugby ever to have happened, it was absolutely astounding, and some of the contact that was made in some of those games, you could feel the pain the players were going through…"
Adding to this, on the idea of bookmakers not paying as much attention to this current iteration of the Rugby World Cup to capitalise on more 'Fashionable' sports, Cook said;
"This World Cup in itself has really reinvigorated the interest in rugby in general.. And from a bookmakers perspective there are other sports that are becoming more fashionable in terms of general viewers.. The thing that book makers are trying to capitalise there is 'Where is the betting opportunity'.. Im not sure the wider business community was seeing this as an opportunity before the World Cup, they may be regretting this now."
You can click the play icon below to watch the rest of this episode, where the panel goes into detail on whether sportsbooks really had the right product available for rugby fans, and have they tapped into the promotional opportunities created by the showpiece event? Or is it a case of a big missed opportunity for the industry?
This is all available on YouTube, and alternatively you can listen on your podcast player of choice.