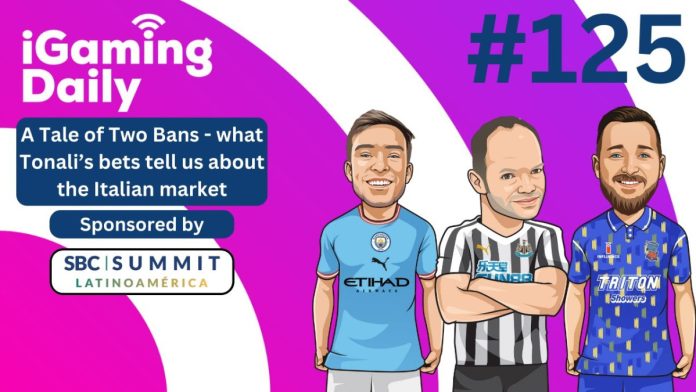 In the light of revelations by controversial Italian journalist Fabrizio Corona that exposed a betting scandal in Italian football, iGaming Daily are once again examining the relationship between professional football and the betting industry after it was revealed that Italy internationals Nicolò Fagioli and Sandro Tonali had bet on matches via illegal websites.
With rumours swirling that more Serie A stars are soon to be drawn into the scandal, and Juve's Fagioli already hit with a ban, it emerged that footballers using black market sites are just the tip of a very large iceberg when Gazzetta dello Sport claimed that Italian gamblers stake €25bn a year with illegal operators.
Almost immediately, representatives of the regulated industry suggested that the scale of the black market was the inevitable outcome of Italy's ban on gambling advertising.
Martyn Elliott steps into the hosts chair to discuss this fast-moving topic, joined by Insider Sport's Callum Williams and SBC Sponsorship Director George Harborne, with the panel discussing how a tale of two bans, Italy's on industry advertising and Fagioli's from the game itself, could be inextricably related.
On the view of these revelations from a betting operator perspective, Harborne said;
"I think it's incredibly frustrating for them, they have their best endeavours to try and maintain the integrity of the competition that they're taking bets across.. I think the big thing with this story in particular is that it's alleged these bets are being placed on the websites of illegal operators. So their frustrations will be magnified in Italy as you have a group of regulators that are abiding by the rules, that are licensed properly and that are trying to build and develop the market in Italy constructively and in line with the rules of the land. Unfortunately they are being undone by operators that aren't playing by those same rules."
Watch the rest of today's episode! Either via the link below or by searching 'iGaming Daily' on your podcast player of choice.