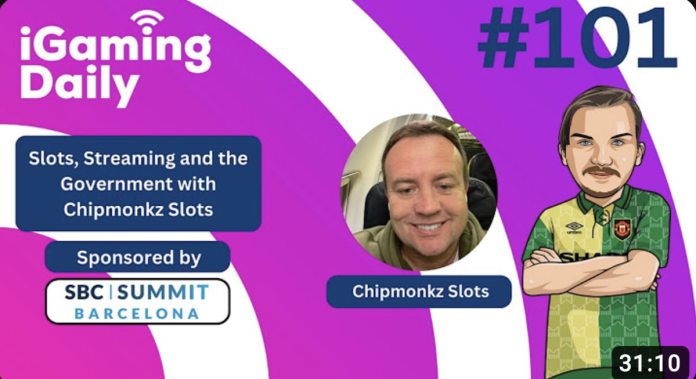 In this latest episode of the iGaming Daily Podcast, host James Ross (formerly of SlotBeats) went back to his roots and interviewed award-winning YouTuber and slots streamer, Chipmonkz, talking twitch, slots streaming, responsible gaming as a streamer and the government white paper in the UK.
Firstly, speaking candidly about his views on Twitch, and how the platform's partial gambling ban, targeting slots, roulette and dice games has adversely affected streaming numbers over the past 12 months or so, Chipmonkz said;
"I kind of understand why they did it.. But at the same time if you were one of those companies, bringing a hell of a lot of traffic to Twitch.. A lot of ad revenue to these guys, they decided to cut that off because they didn't like the bad press that came with it.
I felt like it was a vile decision to pick on certain casinos, if you're going to ban it, you have to ban it all.. It's not really fair."
Chip continues by pointing to the frustration the organisations affected must have felt, citing a possible feeling of 'victimisation' towards the streaming platform actions.
Later in the episode, on the topic of player protection across available platforms, Chipmonkz pointed towards the player holding a lot of responsibility to offer a fair and transparent representation of the gambling industry, he continued;
"If someone is going to gamble, they're going to gamble, regardless of whether they watch me or not.. We give them safe sites to play on, they can get their money if they win, sites you can ban yourself from or take timeouts from – we make sure there's responsible gambling on the sites we play on.
"We need to show people that we don't always win.. They get a clear picture of what gambling is really like when they watch our streams… the most dangerous people out there are the people who only upload the big wins and only show the good side.. you've got to show both sides of the coin."
Ross continued on this topic, "I believe the platform has a right to do its due diligence.. Sometimes they have gone to extreme lengths to permanently ban something which doesn't really deserve to be.. But there should be safeguarding options in place from the platform itself to protect the viewers and their welfare."
To listen to the rest of this episode, with more on gambling regulations, and a focus on the Gambling White Papers – simply click the play icon above, watch on YouTube, or your podcast player of choice.