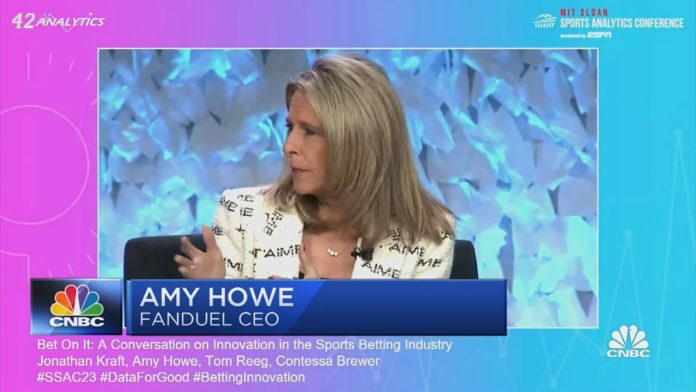 The Nation Football League embracing sports betting was a "real tipping and reflection point" for the industry, stated Amy Howe, FanDuel's CEO.
As part of CNBC's coverage of sports leagues going "all-in" on gambling and reflecting on women's role in the industry, the package began with a clip of Howe participating on a panel entiled Bet On It: A Coversation on Innovation in the Sports Betting Industry at the MIT Sloan Sports Analytics Conference, where CNBC's coverage takes place. 
Speaking ahead of International Women's Day on 8 March, Howe continued: "As people are coming into the stadium, and it's a woman who's never bet before but she's an NFL fan, how do I personalise that experience compared to someone who is a high valued customer."
The news package continued to delve into women in the industry, with a specific focus on leadership roles. Renie Anderson, NFL EVP & Chief Revenue Officer, stressed that the NFL is working to make sure it has the "best people in the best places".
She stated: "We're really working to make sure we've got the best people in the best places, if that's on the field, in the locker room or in the boardroom, leading in those positions and working to make sure that we're not just hiring them but finding them, we're training them and providing opportunities for women.
"I can say that's true for the league office where we have some of the biggest positions with the most responsibility making some of the really important decisions open around the table.
"Having the diversity of that voice is really important especially when we then take it out into the marketplace and we talk to our fans. We have 187 million fans, we can't be complacent."
Adding to the topic at hand, Jessica Gelman, CEO at KAGR, and Founder of the MIT Sloan Sports Analytics Conference, expressed that sports is a "microcosm" for what is happening more broadly in the world.
She concluded: "I hope that more women, especially those in senior positions will use their positions for power. I think of my kids, I have two sons, all they know is, both my wife and I are CEOs, women that lead.
I think there's this process of that this is normal." 
To watch the CNBC Package – Sports leagues go all-in on gambling – click here.