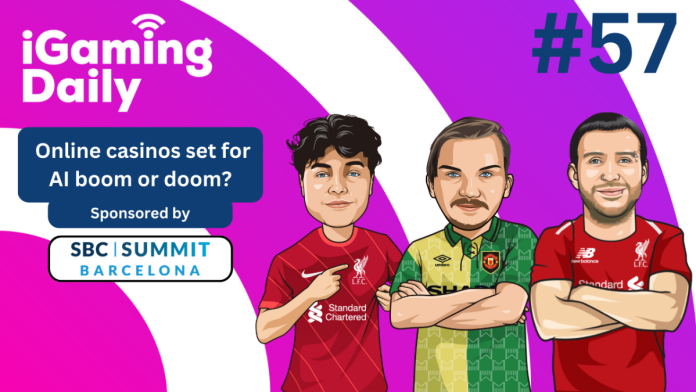 We're just over midway through 2023 and already the last seven months have belonged to technology, with this trajectory not set to change in the near future.
AI has burst onto the scene this year, most noticeably to fanfare over ChatGPT, but no more is this technology in the hands of Silicon Valley entrepreneurs but now accessible to the general public and industries through various sectors across the globe.
However, 2023 has also seen a continuation on the discussion of the metaverse as Web 3 advancements become clearer in what it will contain and what a meta reality consists of emerges.
Joining James Ross, Multimedia Editor at SBC, on iGaming Daily, sponsored by SBC Summit Barcelona, is Editor Craig Davies and Business Journalist for SlotBeats, Danny Lee, as the trio dissect the CasinoBeats' latest 100 Club question that looks into what the next technological step could be to sweep the online casino industry.
Ross began the discussions by asking what the next major technological advancements might be and why. 
On the topic of AI, Danny Lee, business journalist at CasinoBeats and SlotBeats mentioned obvious cases, such as coding and design that can "fast track a number of daily goings on" within the space, before going on to speak about some more advanced uses such as the increase in the use of robotics.
Lee said: "Not only do we have robot croupiers that can deal for live casinos, but we also have robot arms to control cameras. These are examples of advancements in front of and behind the camera"
The panel went on to discuss a number of entrants to this month's 100 Club question, including (add the names and job titles) and discussed topics such as VR, Crypto, and generative AI, and the impact this will have on the industry in terms of jobs, innovation, and the live casino experience.

Ross, Davies and Lee also spoke on the advent of multiplayer slots and how VR and the metaverse could provide a boost to the player experience.
To become a member of the CasinoBeats 100 Club, click on the following link to register – https://info.sbcevents.com/casinobeats-100-club-registration
Join 10,000+ delegates at our biggest ever conference and exhibition this summer in beautiful Barcelona! Game-changing content, the biggest name keynote speakers anywhere in the industry, an almost 40,000 square metre exhibition floor and world-class networking events every single night. Get your tickets now at https://sbcevents.com/sbc-summit-barcelona/