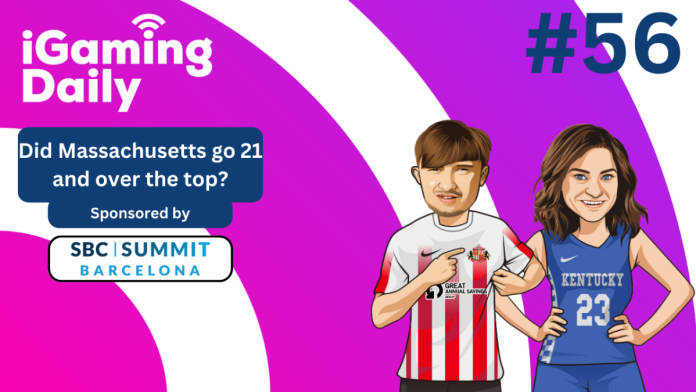 Massachusetts recently took unprecedented steps around sports betting logos in sports arenas. Meanwhile, across the pond, the UK Advertising Standards Authority stated that a sportsbook using Jake Paul for engagement was 'unacceptable' given his young audience.
Age-gating is one of the topics du jour in US sports betting and online gambling but is it an instance of all action and not enough talk?
But do we even know that these actions will have an impact? That is the topic of today's discussion of iGaming Daily, sponsored by SBC Summit Barcelona, with Jessica Welman, Editor of SBC Americas, joined by her colleague Senior Journalist Charlie Horner.
On the topic of age-gating, Welman discusses Massachusetts Commissioner Eileen O'Brien, who vocalised her desires to ensure brands entering the market with more than just a sportsbook, cannot simply use another facet of the business to appeal to minors. 
Welman said: "She wanted to take some sort of steps to stop Fanatics, Barstool and other operators that enter the market and say 'oh well it's not the sportsbook side of the business, it's the media side, it's the merchandise side of the business' she wanted any sort of logo usage anywhere that was not specifically the sportsbook to have age-gating on it"

Horner implied that the age-gating could have the opposite effect. He commented "By adding the 21+ on the merchandise store, it only draws eyes closer to the sports betting side of the business." 
In light of the recent Ladbrokes-Jake Paul controversy in the UK, Horner and Welman, went on to discuss the ethics of using, or mentioning celebrities targeted towards, or influential to young people.
Horner explained: "This whole thing stems from his time on the Disney Channel which is prominent in the UK but I think more broadly his YouTube career…I know he's very popular with with sort of the teenage crowd."

Horner discussed the tendencies, and power (or lack thereof) that the ASA possess in the UK. He continued: "I think they're quite harsh on on gambling in general, but they don't particularly have any authority other than to refer Ladbrokes to other agencies that can impose fines or force them to take the content down…but generally they err on the side of caution."
The two finished by comparing the ASA, with the marketing code of conduct by the AGA in the United States, how the US sportsbooks would react to such censorship, and drew parallels with the recent Barstool 'can't lose parlay' controversy, and Paul's recent SEC fine. 
To read more on the topic discussed today, click on the following links, and to listen to the podcast, check out the YouTube video below, or the podcast player for the audio only version. – https://sbcnews.co.uk/marketing/2023/07/05/asa-ladbrokes-jake-paul/
Later this year, SBC Summit Barcelona will return between 19-21 September at the Fira Barcelona Montjuïc. Click the following link for more information – https://sbcevents.com/sbc-summit-barcelona/