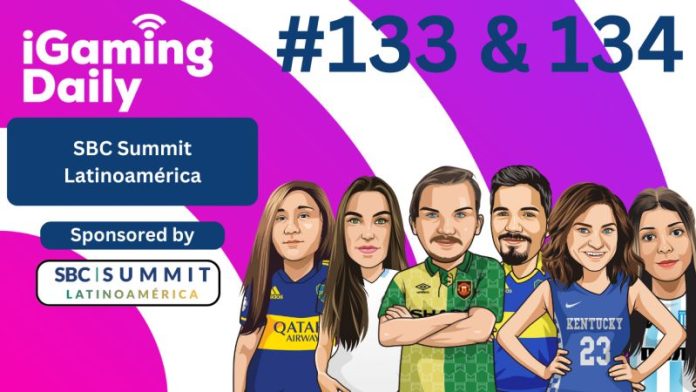 Day One: Reporting live from Miami, James Ross is joined by SBC Noticias' Fernando Noodt, and the newly appointed VP of relationships Latin America, Lucía Mouriño.
James asks Lucía about her new role, moving from media to events, and how the LatAm event has grown over the last few years. The guys also discuss the first day of the conference including Fernando's panel moderation debut, with James sharing a story from his moderating past involving a speaker's underwear.
James, Lu and Fernando also preview the first night's festivities at the Hard Rock Stadium, home of the NFL's Miami Dolphins, the inaugural Global Gaming Women breakfast at SBC Summit Latinoamerica, and what else is to come from the conference and exhibition on day two.
As a bonus, Lucía Gando, the new editor of SBC Noticias joined for her iGaming Daily debut for the final few minutes, to discuss her new role and what she's been up to in Miami.
Day Two: With James Ross hosting once again, SBC Americas Editor Jessica Welman confronts James over his impression of her field-goal advice from yesterday's episode, and SBC Noticias Brasil's Isadora Marcante joins to discuss the Brazilian market.
Isadora gives some context on what makes the Brazilian market so different to the other LatAm markets discussed yesterday, and answers some questions from her inquisitive 'co-iGDers' on the current state of play, and various other aspects of the market in Brazil, including land-based casinos, player protection and more.
The panel, as promised, do get around to reviewing and previewing the remaining content for SBC Summit Latinoamérica, including Jess's panel moderation, and the sessions they're most looking forward to.