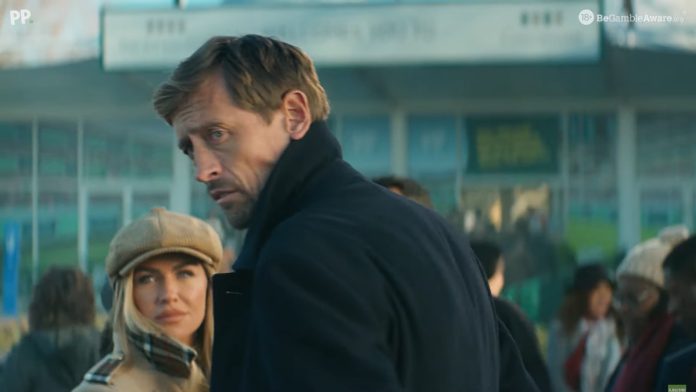 Just as the retail world battles for the most gut wrenching Christmas commercial over the festive period, March sees operators go toe-to-toe to come out top ahead of Cheltenham Festival.
Just over a few weeks away from the UK racing event staple, Paddy Power has followed on from Betfred's campaign, which focused on the passion of sport, to turn to the sports rivalry between Ireland and Great Britain, starring Irish and Hollywood actor Colm Meany and former Liverpool and England international, Peter Crouch.
Staged at the gates of Cheltenham racecourse, Meany is joined on Team Ireland by RTE racing pundit and former jockey Jane Mangan. Team Great Britain consists of Crouch's wife Abbey Clancy as well as former Eastenders star Shaun Williamson.
The back and forth between the two groups consists of humour exchanges relating to the economic crash, Ireland's failure to qualify for the 2022 World Cup in Qatar and Williamson claiming St Patrick was of Welsh origin.
The ad comes to a close with both Meany and Crouch heading towards the turnstiles to enter the Festival, which gets underway on 14 March.
Paddy Power's latest advertisement comes off the back of the operator's recent YouTube advert for Tottenham Hotspur being slammed after two UK charities claimed it was making a joke of the autistic community.
The campaign aimed to mock what it's like being a fan of the club through the use of what seems to be a 'Spurs Sensory Room', with photographs displaying Spur's 'lack of achievements', a VR room for 'fans to cry' and an interactive zone with 'Arsenal's most embarrassing moments'.
Furthermore, the inclusion of Peter Crouch follows on from the Advertising Standards Authority ruling in favour of Paddy Power and Sky Bet's sportsbook brands, which witnessed two complainants argue that two separate adverts involving Crouch, and fellow retired footballer, Micah Richards (Sky Bet), appealed to under-18 audiences.
In its assessment, the ASA stated that both former England players Crouch and Richards were retired and had not competed professionally since 2019 and 2015 respectively.
As such, both are classified as 'moderate risk' under the CAP ruling, meaning that their appeal to younger audiences must be judged based upon their social media activity and followers on such platforms.